FOR IMMEDIATE RELEASE
March 25-27, 2011
Made Event presents
SUNDAY SCHOOL
The Lost Weekend
THE 36 Hour Party
@ Ice Palace, Miami
Sunday School: The Lost Weekend in Miami is shaping up to be larger than life this year, with the Minus crew featuring Richie Hawtin, the Boysnoize Records gang with Tiga and special guests, and the Cadenza Vagabundos with Luciano previously announced. And now, the party is about to get even bigger with the addition of Guy Gerber, Heidi, Jesse Rose, John Roberts, Loco Dice, Paco Osuna, Rhadoo, Three, tINI and Wareika to 36 hours of madness and mayhem at Ice Palace from Friday, March 25th to Sunday, March 27th, 2011.
Taking Stage 1 on Saturday, March 26th, will be the Cadenza Vagabundos crew joined by Romania's electronic pioneer Rhadoo, along with Germany's resident rhythmic architect Reboot, house hypnotist Robert Dietz and more. Sunday, March 27th, sees the addition of Israeli techno ambassador Guy Gerber, BBC's dance music queen Heidi, Front Room Recordings and Made to Play boss Jesse Rose, deep house groove maker John Roberts playing a live and exclusive set, Germany's tech-house figure Loco Dice, Spanish techno conquistador Paco Osuna, Hallucination Limited head Three, Desolat darling tINI, and German three-piece electronic dance outfit Wareika playing a live and exclusive set. Previously announced artists for Sunday include young musical prodigy Nicolas Jaar playing a live exclusive set, eclectic electronic pioneer and Ovum owner Josh Wink, house and techno's unorthodox hero Seth Troxler, the return of Poker Flat Recordings tastemaker Steve Bug and many more. More artists to be announced for the entire weekend.
Sunday School: The Lost Weekend takes place 10pm Friday, March 25th until 10pm Sunday, March 27th, with a recess from 10am to 10pm on Saturday, March 26th.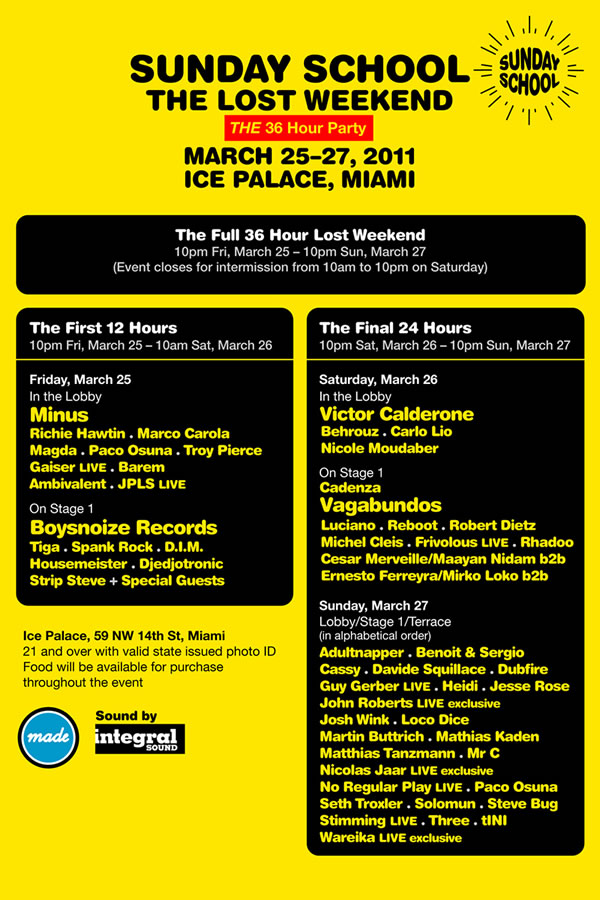 THE FULL 36 HOURS LOST WEEKEND
Full 36-Hour Lost Weekend wristband (allows re-entry) $110 while supplies last –Click here to purchase now
**
THE FIRST 12 HOURS
10pm Friday, March 25 – 10am Saturday, March 26
Ticket for First 12 Hours ONLY (no re-entry) – $35 while supplies last – Click here to purchase now
Friday, March 25
In The Lobby: Minus / Richie Hawtin . Marco Carola . Barem . Paco Osuna . Magde . Troy Pierce . Gaiser – Live . Ambivalent . JPLS – Live
On Stage 1: Boysnoize Records / Tiga . Spank Rock . D.I.M. . Housemeister . Djedjotronic . Strip Steve + Special Guests
**
THE FINAL 24 HOURS
10pm Saturday, March 26 – 10pm Sunday, March 27
Wristband for Final 24 Hours ONLY (allows re-entry) – $60 while supplies last – Click here to purchase now
Saturday, March 26
In The Lobby: Victor Calderone + more TBA
On Stage 1: Vagabundos / Luciano . Reboot . Robert Dietz . Michel Cleis . Rhadoo . Cesar Merveille/Maayan Nidam b2b . Ernesto Ferreyra/Mirko Loco b2b
Sunday, March 27 Lobby/Stage 1/Terrace (in alphabetical order)
Adultnapper . Davide Squillace . Guy Gerber . Heidi . Jesse Rose . John Roberts (live exclusive) . Josh Wink . Loco Dice . Martin Buttrich . Matthias Tanzmann . Mr C . Nicolas Jaar (live exclusive) . No Regular Play (live) . Paco Osuna . Seth Troxler . Solomun . Steve Bug . Stimming (live) . Three . tINI . Wareika (live exclusive)
ICE PALACE
59 NW 14th Street
Miami, FL 33136
305.347.7400
Doors @ 10pm
21 and over with valid state issued I.D.
Rain or Shine
Food will be available for purchase throughout the event
$90 full 36-hour / $35 first 12-hour / $60 final 24-hour / Advance tickets while supplies last at www.MadeEvent.com
Complete sound system installed and engineered by Integral Sound
Sunday School

MadeMiamiMadness

twitter.com/madeMIAmadness
About Made Event
Made Event, helmed by Mike Bindra and Laura De Palma, working with a team of industry leaders, is committed to excellence in the programming, promotion, and production of electronic dance music events. They stand at the vanguard of their field due to the world-renowned caliber of entertainment and expert production values they bring into a variety of distinctive and innovative venues. In 2009, Made Event launched the inaugural Electric Zoo and was nominated for "Promoter of the Year" by URB magazine and "Best Music Event" and "Best Event Promoter" by the International Dance Music Awards for the best of 2010. With over 25 years of combined experience, and over 400 successful events produced in New York City and Miami, Made Event continues to set the bar for quality electronic music events. For more info, please go to www.MadeEvent.com